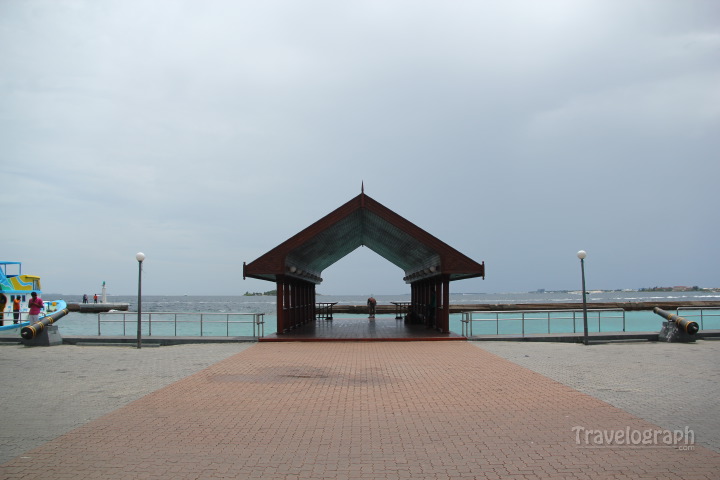 After a good night's sleep at the hotel, we woke up, got fresh, had our breakfast and immediately set out to again explore Male island. The hotel guy had given us the map and marked the main areas in the island for sightseeing and for souvenir hunting. We walked through the Maldives port area, local fish market to reach the defence building and later the presidential palace. We also did buy some souvenirs before walking back to our hotel.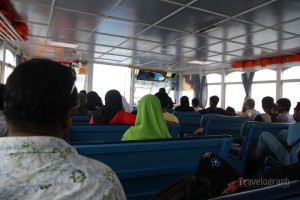 Today, we were to go to this island of Maafushi in Maldives. Maafushi island has a lot of budget hotels and guesthouses who also do a lot of day trips. Since our challenge was to do a Maldives trip in a budget, we chose this place. From Male, there is a daily ferry (except Fridays) to Maafushi that leaves Male jetty at 3pm. But since our flight was to land in Male at 2:10pm, we planned to stay for a day in Male as we wouldn't have much time to catch the ferry the same day. Apart from this ferry, I have read about another ferry which starts at 10am from Male every Sunday, Tuesday and Thursday. Today being Thursday, I was planning to take the 10am ferry to Maafushi. However, when we came here to the ferry terminal to get the tickets yesterday, we were told that today's 10am ferry tickets were sold out and we could go only by the 3pm ferry. Thankfully, that wouldn't affect our plan much. So we were really fine with it.
We checked out of our room, and after having a good lunch, we got to the ferry terminal. At around 2:30pm, the ferry came in and we got into it and exactly at 3pm, the ferry was on its way to Maafushi. The ferry passed through really calm waters and hence wasn't bumpy at all. We could see numerous resorts on both sides of the ferry while passing by it. After a quick stop at an island called Gulhi, we reached Maafushi at 4:45pm. We met our hotel guy right next to the ferry terminal and were on our way to the hotel.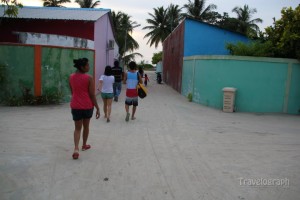 Maafushi island looked really awesome. There was sand everywhere. I mean, its not like you find sand only on the beach. All through the island, even the roads have a thin layer of the beautiful white sand! And when we got to our hotel, guess what, the lobby too had a thick layer of sand! It looked awesome! We did our check in and in the hotel board, which had all the details of the trips from the island, we could see a "night fishing" trip scheduled for 6pm today. So we had just an hour to get ready for it!
At 6pm, we started our night fishing trip. We got into the hotel's speed boat and it took us quite far away from the island. Along with us, there was another couple from Singapore. Being a small speedboat, the ride was definitely bumpy. After around 20min, we anchored in the middle of the sea at a place where our hotel guys told us that it had a lot of fish. They gave us a reel of fishing cord with the hook attached to its end and the bait for fishing. So, we started fishing! At first, we lowered the bait only a little bit into the water and so we weren't getting any bite. Then the hotel guy told us to roll out the fishing cord till it reaches the coral reef (you know it has reached the reef when you will find that the cord no longer unwinds itself) and then pull it up a little bit so that the bait hangs just above the reef where you will find the maximum number of fishes. And when we did that, we were getting lot of bites on our bait (you can actually feel them bite on your cord).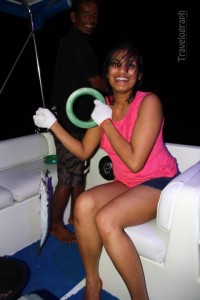 20min passed without any luck for any one of us. Suddenly three of us (myself, Sarah and the other guy from Singapore) felt something on our fishing line. We all started pulling up fast just to be the first to catch the fish. As we were pulling it up, we realized that our 3 fishing lines got tangled! But yes, we did catch a big fish! The only question was, whose fishing line had actually caught it! As we slowly untangled the cord, it became clear that it was actually caught by Sarah! She was obviously so happy about it and we clicked a lot of photographs. Now, every one of us started fishing with even more urgency. We now know that there are fishes in the waters below us. The only question was who was going to catch the next one! Hardly had another 10min passed when Sarah started pulling up her cord expecting another one. Rest of us were hoping that the next one would be caught by us. But as she pulled it up, it was clear, another fish for Sarah and this time, its a Barracuda!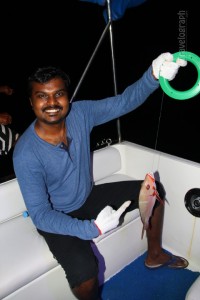 We resumed our fishing. After trying in vain for quite some time, I could feel something tugging my cord. As I pulled it up, yes, it was my turn now, I got a big one! Now it was my turn to flaunt and pose for photographs! In the meantime, Sarah's fishing line was getting cut several times. Our hotel guy informed us that the barracudas would cut the line by biting on them.So she was getting frustrated. But the rest of us continued fishing without any issues. I later caught 2 more fishes (1big and 1small) which took our combined tally to 5! But unfortunately, the couple from Singapore weren't so lucky. Our hotel guys caught one fish and one squid. Getting the squid into the basket was a challenge as it would spray its ink in defense.
After spending 3hrs fishing, we were back at our hotel tired. But now, guess what, the hotel guys would barbeque the fish that we caught for us to eat! So we all had a heavy dinner of 6 fish and 1 squid barbeque with pasta! Since we were quite tired, we just crashed into out bed to get good rest.
berT & Sarah
01.05.2014
Location: Maafushi, Maldives

Are you from India?
I have created an algorithm that can predict the airfare movements in India. It also predicts and alerts you of any approaching airfare offer. Do check it out! http://unfare.in