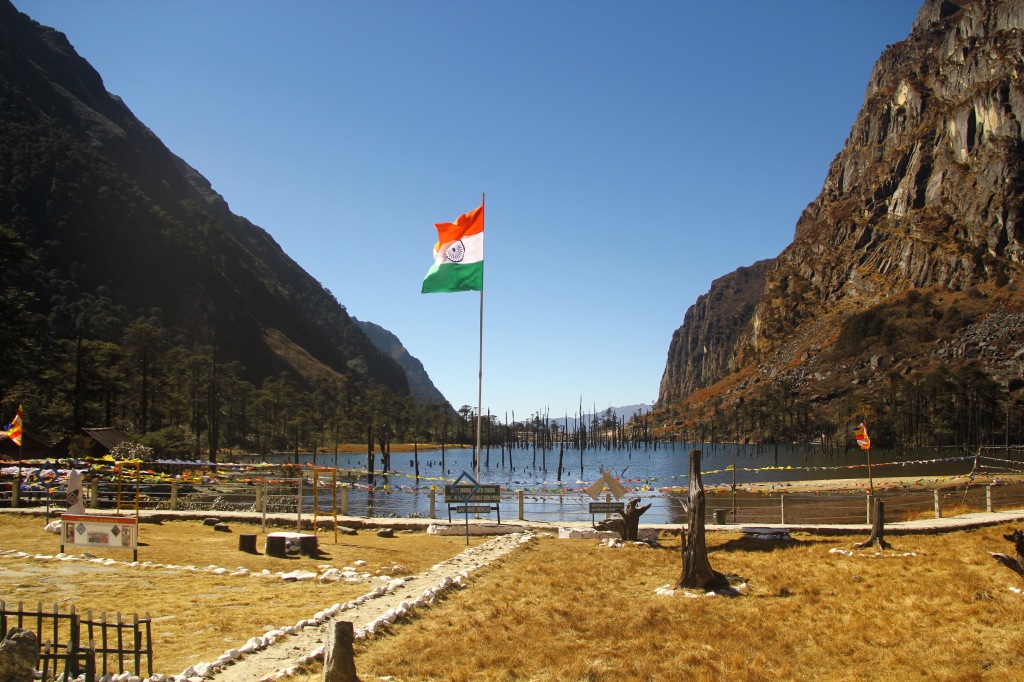 The taxi ride that I booked yesterday came to pick me up from my hotel around 7am. I was all set for a day's outing. I didn't have my breakfast as I thought to have the same on the way. But when I asked about the same, he replied that there wouldn't be any restaurants along the way today. I really had no idea what was the kind of trip that was ahead. Nevertheless, I decided to start my journey.
As soon as we start from Tawang, we start gaining altitude as it is all uphill. Couple of kilometers from Tawang, you get a very good view of the Tawang monastery. I stopped by to click a few photographs of the monastery again. We continued to climb. The roads were getting pretty bad and there was no inhabitation around. The only people you see will be from the Indian army. After a brief stop at the checkpoint, where we showed our permit, we moved on.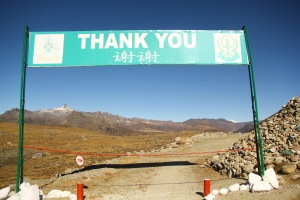 Since our taxi was almost empty, couple of army guys also joined along. I had a wonderful conversation with them during the ride. The border here with China is largely peaceful with the weather being the only enemy. During the conversation, one of the jawans quipped, "this isn't India anyways. China occupies the Norther Tibet and we occupy the Southern Tibet!" I was surprised. At this time our driver also added that his grandfather used to hike from the town in the Chinese side of the border to Tawang to buy and sell stuff and after Chinese occupation, his family moved to Tawang.
The road was getting extremely bumpy. And finally, after passing through numerous army camps, we were at the China border. I got down from the cab and slowly got to the reception area. The altitude at this point was above 15,000 ft. The air was thin and so I was taking small steps. I was greeted by an army personal who took me right to the border point which was only a walkable distance. In the border, there was just an arch, a pile of stones and a telephone. I was told that this telephone was a hotline contact with the Chinese post to communicate.
The army guy also pointed to us all the Indian posts around which are looking at Chinese territory and the Chinese posts around which are looking at Indian territory. He was gave me his binoculars which he constantly uses to monitor the border. After clicking some photographs, I moved on.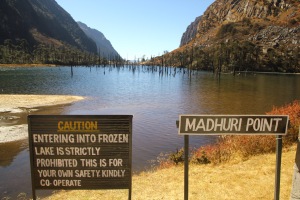 Our next destination for the day was Sangetsar lake or which is popularly called the "Madhuri" lake. It seems a song sequence from the movie Koyla was shot with Madhuri Dixit dancing with the lake was the backdrop. Thats where the name Madhuri lake came from. Anyways, after a 25km bumpy ride through barren mountainous terrain from the border, we reach the Sangetsar lake. Though it was beautiful, I was not awed by its beauty given that I have seen so many high altitude lakes especially in the Ladakh region which are extremely beautiful. Also this lake is quite small when you compare with the ones in Ladakh.
I walked around the lake, clicked a few pictures and sat at the army cafe for a cup of coffee and some momos. It was past noon by now and we were on our way back to Tawang. I was having a really bad headache due to the altitude. The bumpy roads was not helping either. I was tired as all I had for breakfast/ lunch was just a few momos. I really wanted to just get back to my room and rest. Along the way back, we stopped by at couple of other small lakes named NaguLa and PT Tso lake. They were good, but nothing extraordinary. After the winding journey, I finally reached my hotel. I was just too tired and I took some rest.
I woke up around 4pm. Though I was still tired, I knew I really had to have some food. So I went out and had my lunch. The taxi driver also mentioned about an evening show at the Tawang war memorial that starts around 5:30pm. I wanted to check that out too. So I started my walk towards the same. The roads are pretty downhill and I knew that it is going to be so difficult during my return. But still, I moved on.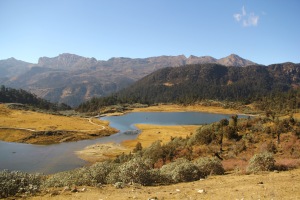 I reached the Tawang war memorial around 5:20pm and the show had just started. So I took a ticket and sat down. The show was pretty good and it was more like a documentary video first about Tawang and its attractions and then about the Indo-China war. I would definitely recommend anyone visiting Tawang to watch this show, preferably on the first day in Tawang itself as you will then have an idea on the different places that you can visit around here.
After the show, I started my grueling walk uphill back to the hotel. Anyone planning to walk to the war memorial from the market area, be sure that you are up for a really tough climb/ hike back. Also, carry a torch since it gets pretty dark. After the long walk uphill, I finally reached my hotel and crashed into the bed for some much needed rest.
berT
18.11.2016
Location: Tawang, India

Are you from India?
I have created an algorithm that can predict the airfare movements in India. It also predicts and alerts you of any approaching airfare offer. Do check it out! http://unfare.in