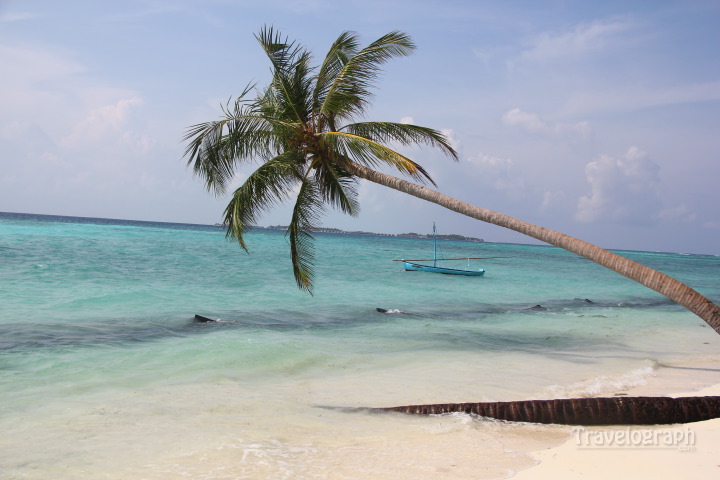 In this blog we talk about step by step process of planning a budget trip to Maldives. Before we start, there are two things I need to tell you. One, this may not be ideal for a honeymoon trip. Second, it is recommended that you read my other post on things to keep in mind while on a budget trip to Maldives.
So lets start. First, regarding the flights. Any flight that lands in Male before 1pm is ideal. This will give you enough time to catch the 3pm ferry to Maafushi. Note that this rule doesn't apply on Fridays as there is no ferry to Maafushi on Fridays! Just to be clear, the island that you land on is called Hulhule. The ferry to Maafushi starts from Male island. So you need to get to Male island. Once you get out of the Male airport, take a right and you will find the Male ferry terminal. Get a ticket for 1$ and get on the ferry. There will be a ferry almost every 10min and it will take just 10min to reach Male island. On Male island, you will get down at the Airport Ferry terminal. The Maafushi ferry will start from the diagonally opposite end of the island (from Vilingili ferry terminal). Easiest option is to get a taxi (2$ approx) or just walk (we did walk, but its a long walk and it isn't pleasant to walk with the heavy backpack!). In case you feel lost, feel free to ask anyone around you. Maldivians are so happy to help a tourist (one guy called up our hotel from his cellphone as we couldn't find the taxi that hotel guys sent to pick us up!). Once you reach the Vilingili ferry terminal, look for the ticket counter and get the ticket to Maafushi(22MVR or <2$). Read my experience on this ferry here. Ferry operator link: here (look for ferry schedules)
Next, lets look at the accommodation part. Since I can't give a review about all the hotels on the island, I will name just a couple of them here. If you are on a very tight budget, choose Venturo Inn (this is where we stayed in April'14). You can book this through booking.com or agoda.com This is probably the cheapest accommodation you will find in entire Maldives! But, the hotel is just decent (don't expect anything more than a neat place to sleep!). Also note that this hotel is not right next to a beach. The only thing that bothered me in this place was the presence of flies at the breakfast table 🙁 If you want a much better accommodation, try Kaani Beach Hotel. This hotel has a good beach right next to it. You can book this through booking.com or agoda.com Now, why do I recommend these two? I have personally stayed in Venturo and find it to be a good value deal. I have met tourists who have stayed in Kaani Beach hotel (these guys come down to Venturo and I'll tell you why :)). Note: Like I said earlier, there are many other hotels and guest houses in this island. So do shop around for accommodation as you like.
Next, regarding the day trips. Here, I will give you a clear recommendation for Venturo and there is a good reason for it. I have seen that even people who stay in other hotels on the island come to book their day trips with Venturo because its cheap! And the best part is, if there are more than 6people(not necessarily people whom you brought) on a trip, the Venturo guy will discount the trip even further! So don't forget to bargain! Read about all the day trips that we took when we were in Maldives in April '14 here. Here is the price chart for the trips that the Venturo guy had sent to us before our travel in April '14.
Public Price
Remark
Speed Boat (2 pax)
182$ day, 200$ night
Speed Boat (4 pax)
350$
Snorkeling trip 1 person
$20 to $35
Banana Reef, more people more cheaper, include soft drink, snorkeling equipment
Picnic Island/ Maadhoo Finolhu
40$ + 11$ entry fee
1 person, more people more cheaper, include soft drink included soft drinks and lunch BBQ, Beach towel, snorkeling equipment
Dolphin cruise
25$
take 1.5 hour, can see everyday
Manta trip
165$
1 person,can find manta trip everyday 8 hrs
Whale Shark trip
450$
Ari atoll, whale shark point 10 hrs
Resort visit transfer fee ( more people more cheaper)
20$
Biyaadhoo,Cocoa,Anantara
25$
Kandooma
45$
Fihaalhohi,Olhuveli,Rannaari,Rihiveli, Fun Island
Resort visit entry fee
30$
Biyaadhoo
60$
Cocoa
100$ (I guess you can redeem this as coupon!)
Kandooma
150$ (I guess you can redeem this as coupon!)
Anantara
45$
Funisland,Olhuveli,Fihaalhohi,Rannaari
Day&Night fishing 1per
25$
sunset fishing 1person
25$
Sandbank trip 1 person
20$
Another reason for the guests in other hotels to come to Venturo is the cheap dinner buffet here. For just 6$ per person, Venturo serves a decent dinner buffet! The price is the same for Venturo guests as well as outsiders. But ensure that you come in around 6:45pm as the buffet gets over by around 8pm.
I know this almost sounds like an advertisement for Venturo but trust me, we don't have anything to do with Venturo. In case you find a better and cheaper option, do let us know so that we can post it here and help other travellers who are planning for a budget trip to Maldives! If you have any questions, please feel free to drop in a comment below and we will be happy to help you!
UPDATE: Venturo has increased their room rates as of September '14. So it is no longer the cheapest in Maldives. But all other details would remain the same.
Bon Voyage!
berT & Sarah

Are you from India?
I have created an algorithm that can predict the airfare movements in India. It also predicts and alerts you of any approaching airfare offer. Do check it out! http://unfare.in