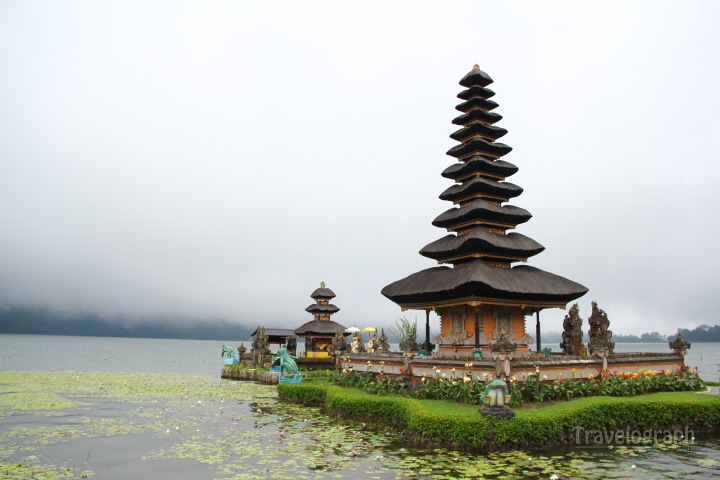 We got up early in the morning as we were planning to go on a day trip to explore Bali. As we finished our breakfast at the hotel, the tour guide had come to the hotel to pick us up for the Bali tour. We got into the car and started off. Unlike in many other tourist destinations in South-East Asia, in Bali, there aren't many tour group operators, ie, groups of 10-12 on a tour. Here, we go to an agency and book a car with the driver acting as a tour guide to take us around the island. While this option makes the tour a little more expensive than the other type, it does give us a lot more flexibility and privacy!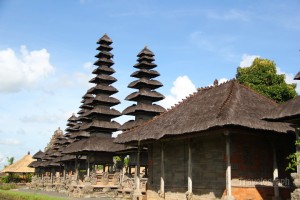 Our first destination for the day was the Mengwi temple in Bali. After more than an hour's drive from our hotel, we reached the temple. As we got down, I remembered the beautiful temples that I saw back in the Angkor Wat complex in Cambodia(click on the link to read that story). Though not as big as the temples in Cambodia, these temples did have a very distinct architecture with its conical shape. We went around the temple complex, clicking photographs and then got back to our car.
Our next destination was what I was waiting to see in Bali. It was the Ulun Danu temple in lake Bratan. Whenever we see a post/holiday package of Bali, we will find the photograph of this temple! I guess it portrays Bali in a beautiful way. The drive involved a lot of uphill climbs up the road and was long. We could feel the weather getting cooler and cooler and finally, we got a glimpse of the lake Bratan. It was looking really beautiful as there was a slight drizzle which created a perfect ambiance for our drive to this place.
As soon as we got down, the drizzle stopped and it was great weather! We got our entry tickets and walked around the area and took several beautiful photographs. For a tourist in Bali, a visit to this temple is a must, I thought. After enjoying quite a long time walking near the lake and the park nearby, we decided to get back to our car to continue our journey. Since we weren't too hungry, we just bought a couple of packets of strawberries that the locals were selling by the roadside.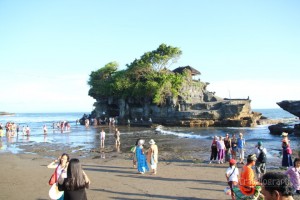 By around 3pm, we reached Tanah Lot, which was the last destination for the day. It was told that this was an excellent sunset point in Bali. But since the sunset was hours away, we decided to check out the numerous small shops that sold souvenirs and other local merchandise. Since we had plenty of time to kill, we got into a number of such shops to buy souvenirs to take back home.
Soon, it was sunset time and we started moving to the sunset point. But as we got near, I could see that it was just a place where you can see the sun set over the horizon. Nothing quite remarkable! And to top it all, there is a huge crowd in there too! So the lesson learnt is: if you have seen the sun set in places like Langkawi, Malaysia (Disclaimer: The sunset in Langkawi is the most beautiful one I have ever seen. Click on the link to read that story. I know there maybe even better places elsewhere!), chances are, Tanah Lot will be just another sunset point for you!
berT & Sarah
20.07.2013
Location: Bali, Indonesia

Are you from India?
I have created an algorithm that can predict the airfare movements in India. It also predicts and alerts you of any approaching airfare offer. Do check it out! http://unfare.in